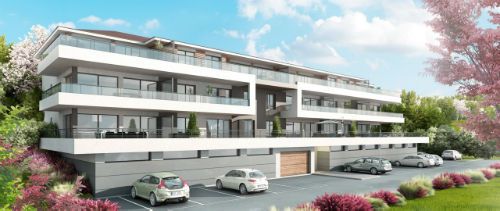 Invest in a New Development between the Lake and the Mountains Evian Sotheby's International Realty: Everything New on the Shores of Lake Geneva and the Portes du Soleil Ski Area
Evian Sotheby's International Realty has more than 15 years of experience as a specialist in new development management and marketing. We have a track record of marketing success with numerous developments in Evian and the surrounding region, which has given us expertise in every stage of the new housing construction process.

We have mastered all aspects of real estate development, from searching for land in the target market segment, analyzing proper pricing in accordance with the realities of the local real estate market, and managing the construction phase up to the delivery of completed homes.

Armed with this expertise and our previous successes, we can offer you villas and apartments that are either new and sold prior to completion (VEFA, Vente en Etat de Futur Achèvement), or that have been recently completed. Our offerings are carefully selected in accordance with your quality criteria related, at the developer's choice, to the development site and its prospects for resale.

Evian Sotheby's International Realty offers you:

Studio apartments, one bedrooms, two bedrooms, three bedrooms, four bedrooms... villas, new houses, commercial premises and beautiful real estate projects both in the planning stages and under construction in our region of Lake Geneva in the municipalities of Evian-les-Bains, Neuvecelle, Thonon-les-Bains, Amphion-les-Bains, Publier, Maxilly, Lugrin, Châtel, Morzine, Avoriaz, Bernex, Thollon-les-Mémises, Saint-Paul-en-Chablais, Champanges, Larringes, Marin, St-Gingolph, Douvaine, Messery, Chens-sur-Léman, Sciez-sur-Léman, Anthy-sur-Léman, Excenevex, Nernier, Yvoire, Veigy-Foncenex...

Our real estate agency will advise and assist you throughout the entire process of selecting and buying your new home.

You can search our website for our housing development listings of new apartments and houses for sale with a view of Lake Geneva or the Evian Gulf, either near the harbors and piers or the Swiss border.


You will find countless housing developments either under construction or recently completed:

L'Aquiano, L'Eau de Roche, the Port d'Amphion residences, Les Villas de Juliette, Les Palais du Léman, L'Ex-Voto, L'Aiga, Le Gent'Leman, Les villas d'Hermance, Le Central Parc, Le Nouvel R….
The main benefits of buying a new or off-plan home are:
- Reduced notary costs.
- No construction work to be completed or anticipated.
- Energy savings as a result of the latest RT2012 construction regulations.
- Modern, considered architecture.
- A 10-year warranty on the building construction and a construction completion guarantee.
- A choice of materials and, whenever possible, adaptation of the interior plans to your needs.
- The possibility of a tax deduction or exemption in accordance with the Pinel Act, allowing you to prepare for your retirement.